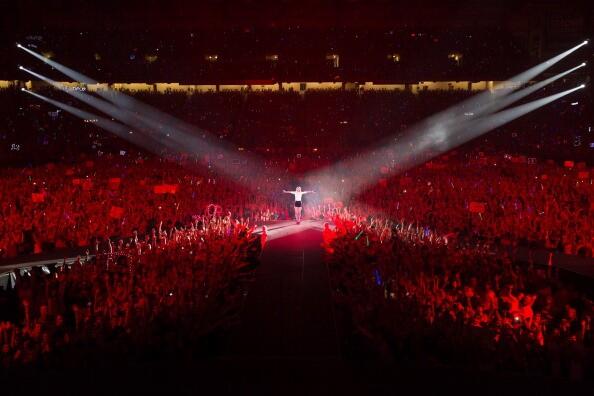 Celebrity culture is weird. This generation are so dependent on celebrities. The reason I've noticed this is because of the way I act to celebrities. So, I'm not criticising, well I am, but I'm mainly criticising myself. (Before I write this, I do realise how people get offended when people talk about religion and I hope I don't offend anyone.)
As the idea of religion decreases with the involvement of science and evolution and all that, we have now started to hold on to something else. It's like the human population need something to follow. This generation it's 'celebrities'. People who are like the 'chosen ones'. But we follow them religiously. You all should know of my Taylor Swift obsession. I have posters on my wall, I usually know what's she's doing most days (today she's dancing around in her garden thanks to her tweeting a picture of it) and I have all her albums. It's even come to the moment that when people are rude about her in front of me I feel this hurt or pain because it's as if they're being mean to me. It's like she is a part of me. Which she is, she has been a big involvement in my life. But it seems unhealthy that I should cry if someone utters a negative word in the same sentence with her name. (I don't do that anymore...)
I feel myself losing my 'Taylor Swift feelings'. Maybe it's because I'm growing up? Or maybe it's because she's changed, but I'm moving on. I still love her music but it's less of a 'religion' (to put it lightly). However, I still find myself being involved in the celebrity universe. I'm sorry to admit this but, yes, I do visit Perez Hilton on a daily basis. But so do millions of others. Like a million others follow religions. I just think that there is a great correlation between them both.
When I went to see Lana Del Rey the other night she came out into the crowd and it just reminded me of when the Pope goes around on his tours. Everyone was trying to touch her (including me) and get her autograph. But to feel what? To have that feeling that we are close to being a part of the 'elite'? To have a feeling of satisfaction? I have know idea, we just do it. It's like when people want the Pope to touch them to feel holy or whatever. It's kind of scary. People cry and scream when they meet these people. Imagine if you were one of them how weird that would be. I would definitely be perturbed if I was them. But it's because celebrity culture has grown and grown and if now a big part of lives - more than people like to think.
What I'm trying to say is that generations change. My gran, for example, goes to church every Sunday. I, however, am an atheist. But I'm still a part of this 'religion' of famous people. Just think about it. The relationship between religion and celebrity culture is very similar.
Another profound post from yours truly. Sorry if anyone found this strange...
(One day I should start sourcing these photos but I really can't be bothered at the moment)
((The last two are from a Tumblr called SwiftSecrets - they're all kind of mental.))